Concert Promotion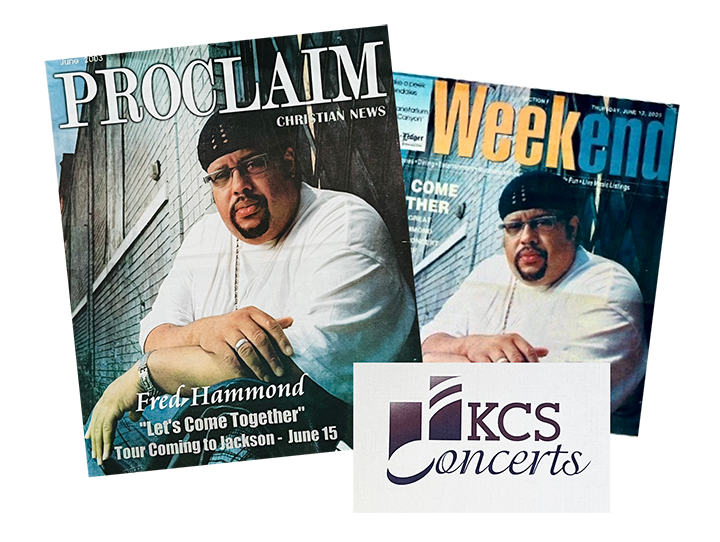 Omega forged its role in the arena of concert promotion including the marketing and promotion of the "Let's Come Together" concert series featuring Grammy-Award artist Fred Hammond. Omega worked in association with Atlanta-based KCS Concerts. The tour included a performance at the Mississippi Coliseum.
Three Sisters & A Mixer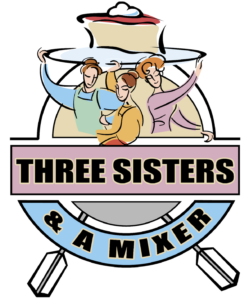 First logo designed by Omega Group for Three Sisters & A Mixer, a bakery and caterer, which was located in Flowood. Hand illustrated by Steve Erickson.
Jackson Center for Smile Designs

Early television commercial produced by Omega Group for dental group, Jackson Center for Smile Designs. Cynthia Johnston was a patient of the clinic and appears in this spot.
Seattle Drip Coffee Company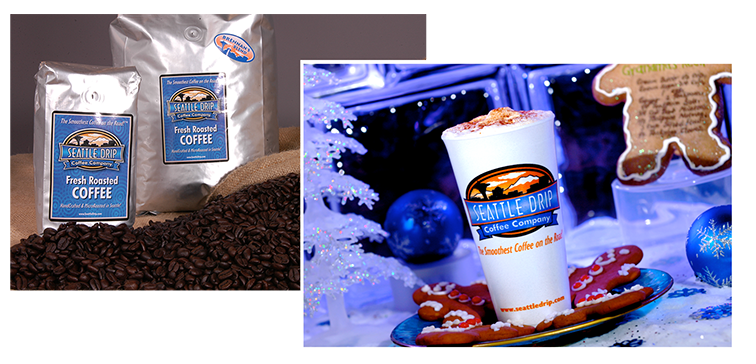 Omega developed the website for Seattle Drip and created seasonal brands for this double drive-thru coffee and espresso based retail drink outlet. Seattle Drip offered unique blends of coffee beans hand-roasted in Seattle. Seasonal offerings included Eggnog Latte, Gingerbread Latte and Pumpkin Spice.
Admobile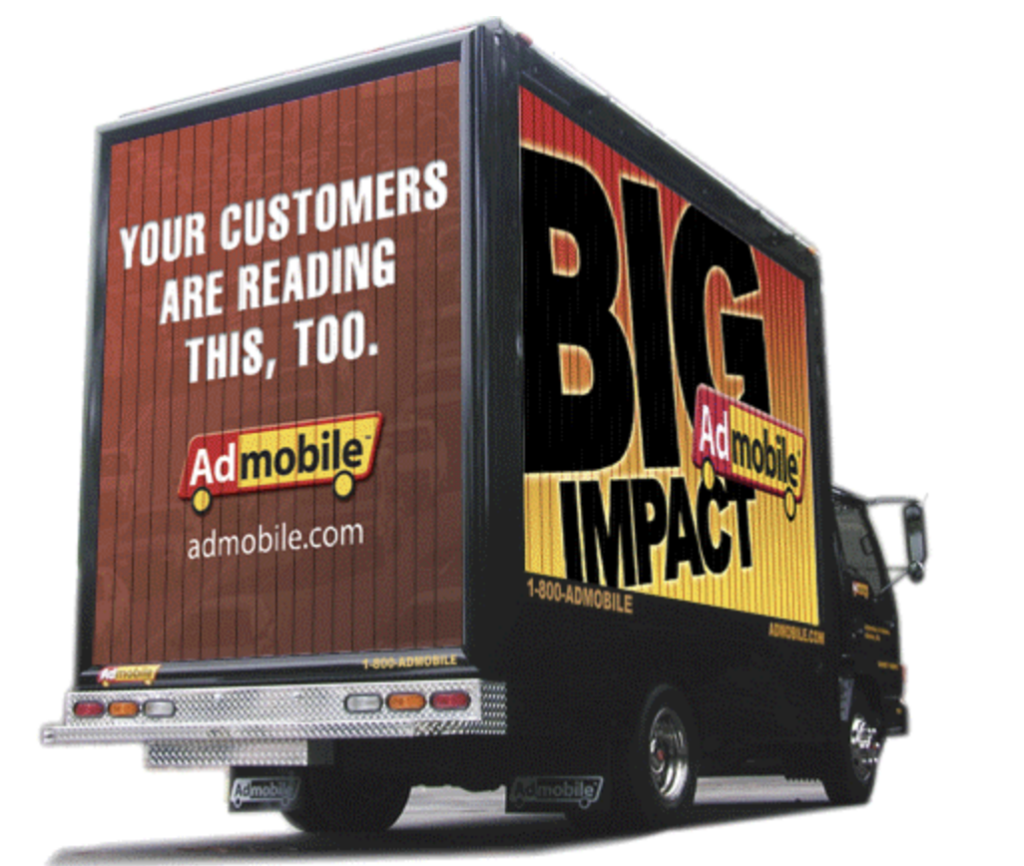 This TV commercial was shot in the Highland Village area for the mobile ad group, Admobile. V/O by LA-based talent Chris Davies.
Upton Tire Pros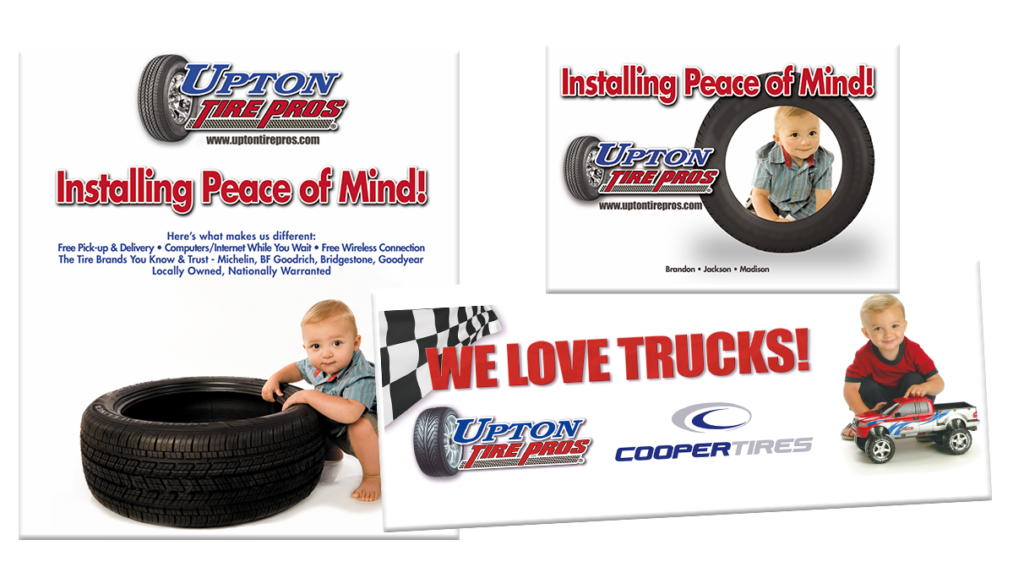 When Upton Tire Pros introduced nitrogen for tires to the Metro Jackson Market, safety was a key feature. Omega incorporated a mother and baby into the creative. This led to a three-year long billboard campaign with the "Tire Baby".
St. Dominic's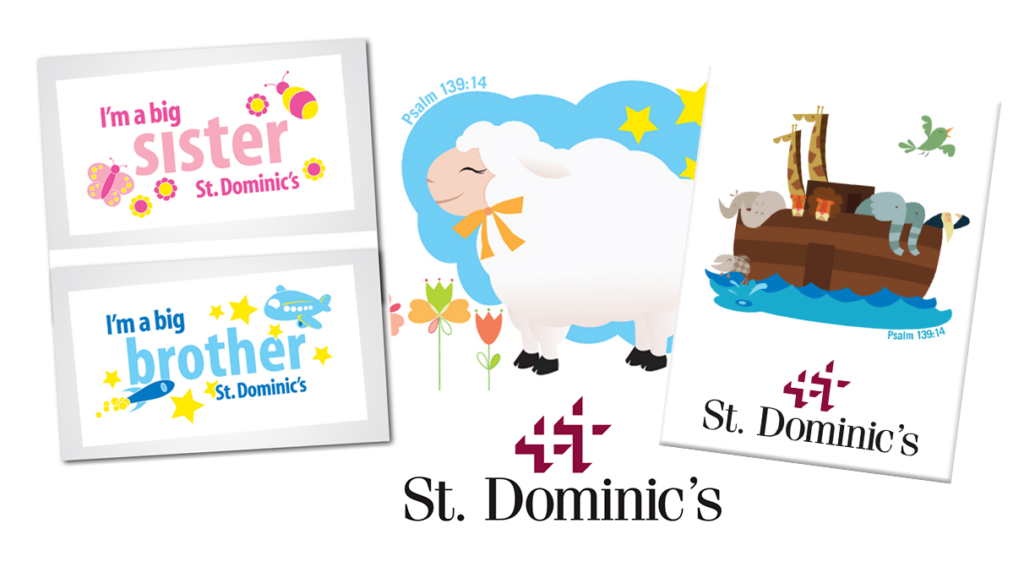 St. Dominic's asked us to design branded elements for new mothers for their Newborn and Maternal Care Unit. These designs reflected the joyful celebration of a baby's birth.
BRAVO! | Broad Street | Sal & Mookie's Co-Brand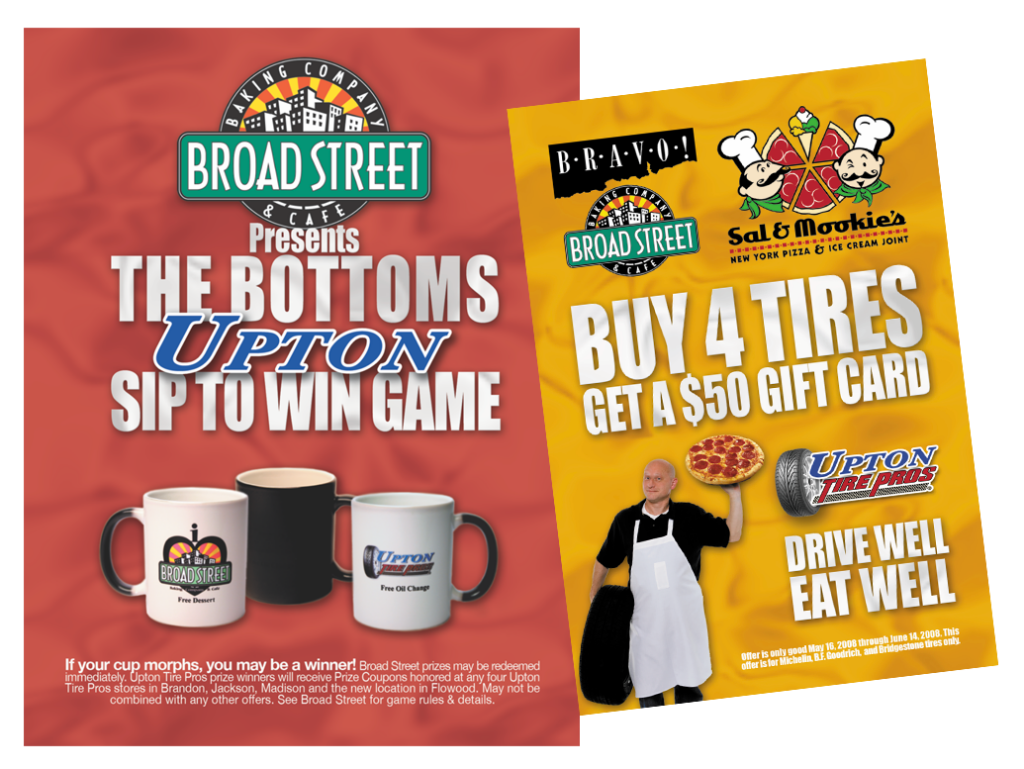 Innovations of Upton Tire Pros marketing led to a partnership with Jeff Good and the Mangia Bene Restaurant Group. The "Sip to Win" game was a morphing coffee mug available at Broad Street. When the mugs were filled with coffee winners of Upton giveaways were revealed.
Mobile Apps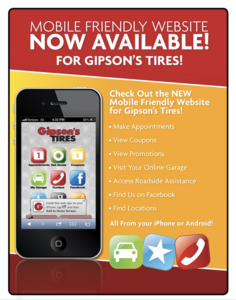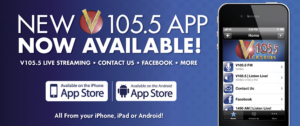 As a Certified Apple and Android App Developer, Omega began designing apps for our clients and campaigns to support those apps in 2010. This effort included a roll-out of Omega division focused on technology development, Omega Edge.
Christ Covenant School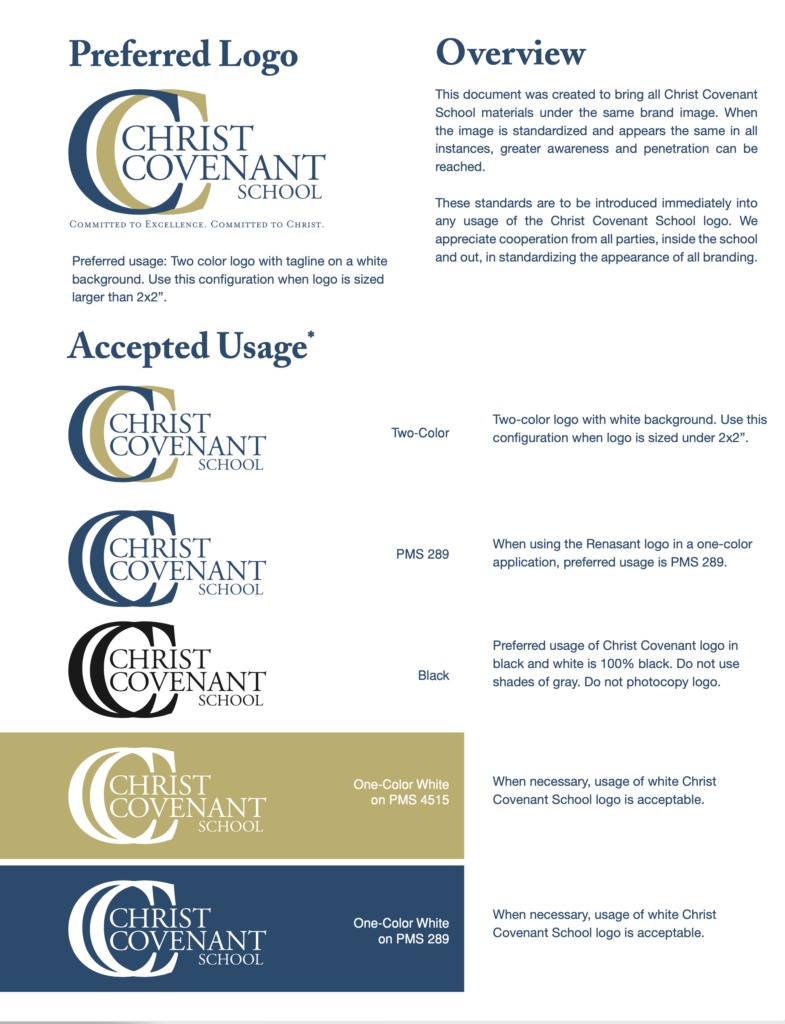 Founded in 2002, Christ Covenant School is a covenant school and teaches all subjects from a biblical worldview. CCS as regarded as one of the most academically advanced programs available. On average, CCS Students score 3 years above grade level on achievement testing. More than 85% of CCS 7th Graders Qualify for Duke TIPS. Omega Group developed an innovative branding strategy for CCS that included brand development, content strategy, design and illustration, advertising platforms, web and digital services, administrative collateral, educational video content and fundraising events such as Fall into Fun and Spring Swing.
C3 Paris Band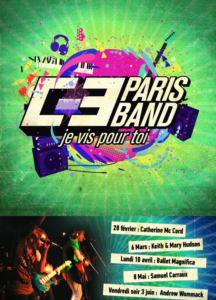 Music video produced for C3 Paris Band. Omega joined the crew in Paris to shoot the video to for this worship band to support their album release and its single "Je Vis Pour Toi" translated "I Live for You".
Greater Jackson Chamber Partnership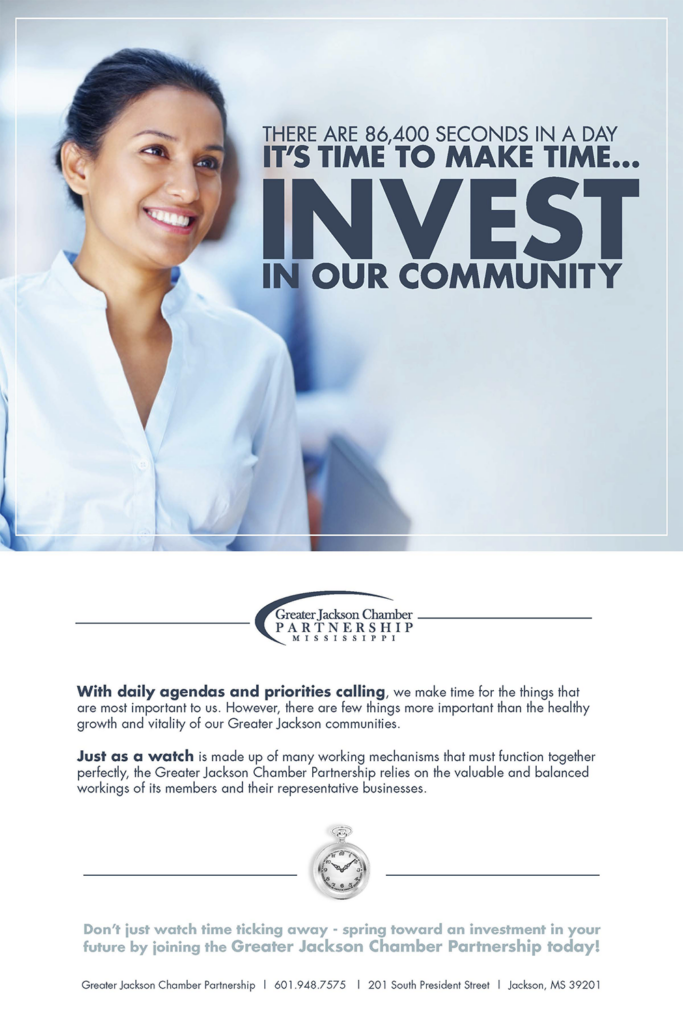 Branding campaign for Greater Jackson Chamber Partnership, a regional economic development alliance focused on marketing the region as a premier location for corporate investment and job creation.
200 Million Flowers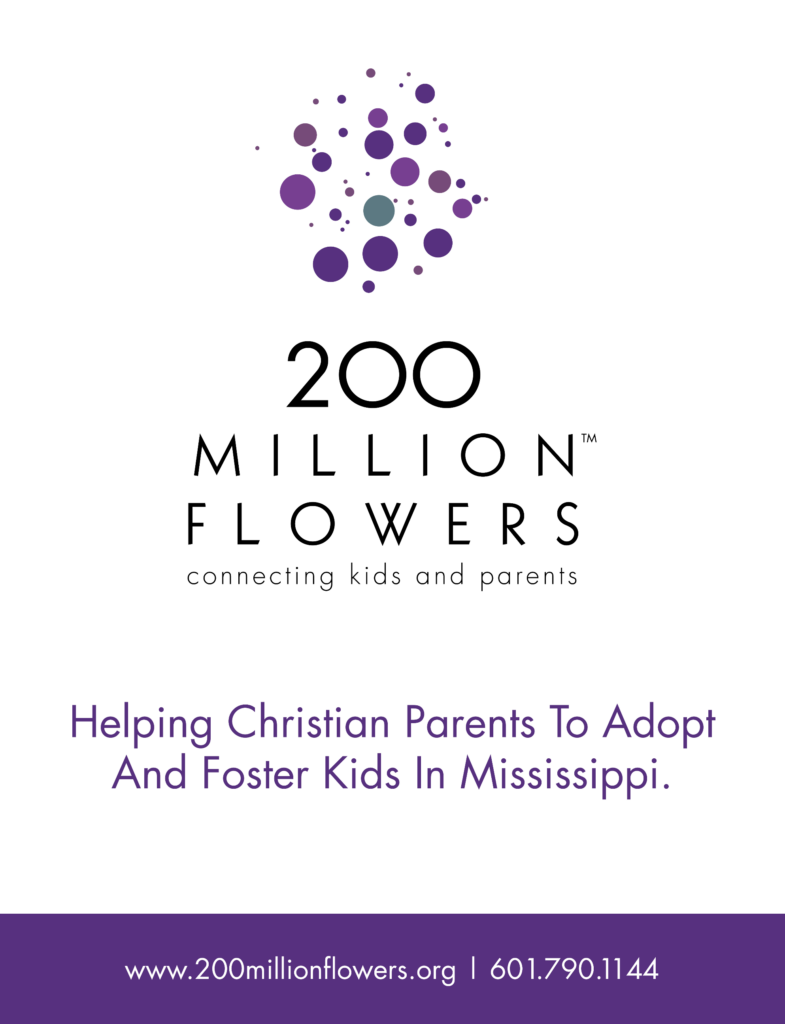 Omega generated platform-specific content for this nonprofit adoption agency driven by 200 Million Flowers brand and core values. Over numerous years, projects included the Annual Art of Adoption, 5K for the Fatherless, Wall of Adoption and Rescue 100, a collaborative effort between the Mississippi Department of Child Protection Services, the Mississippi Commission on Children's Justice, 200 Million Flowers, and churches across the State of Mississippi to provide loving homes for children in the foster system.
The Tractor Store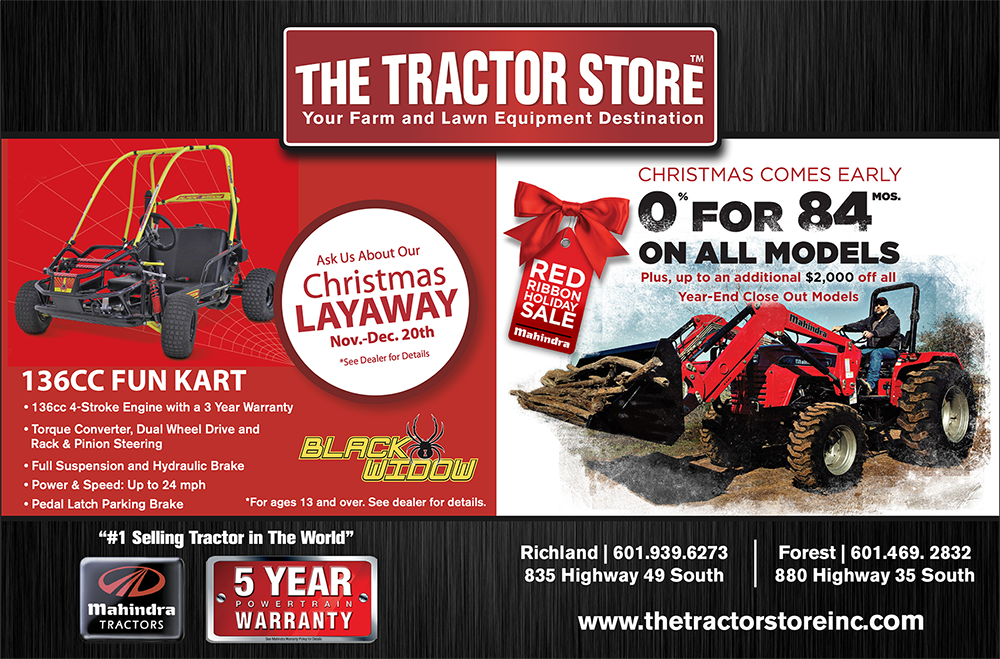 The Tractor Store was primely located on the Highway 49 major artery with a second location in Morton. This Mahindra dealer was rebranded across every spectrum – collateral, marketing materials, signage, merchandise, website, social media, corporate identity kits, advertising, such as radio, television, and outdoor, giveaways and events such as the Mississippi State Fair.
Vicksburg Toyota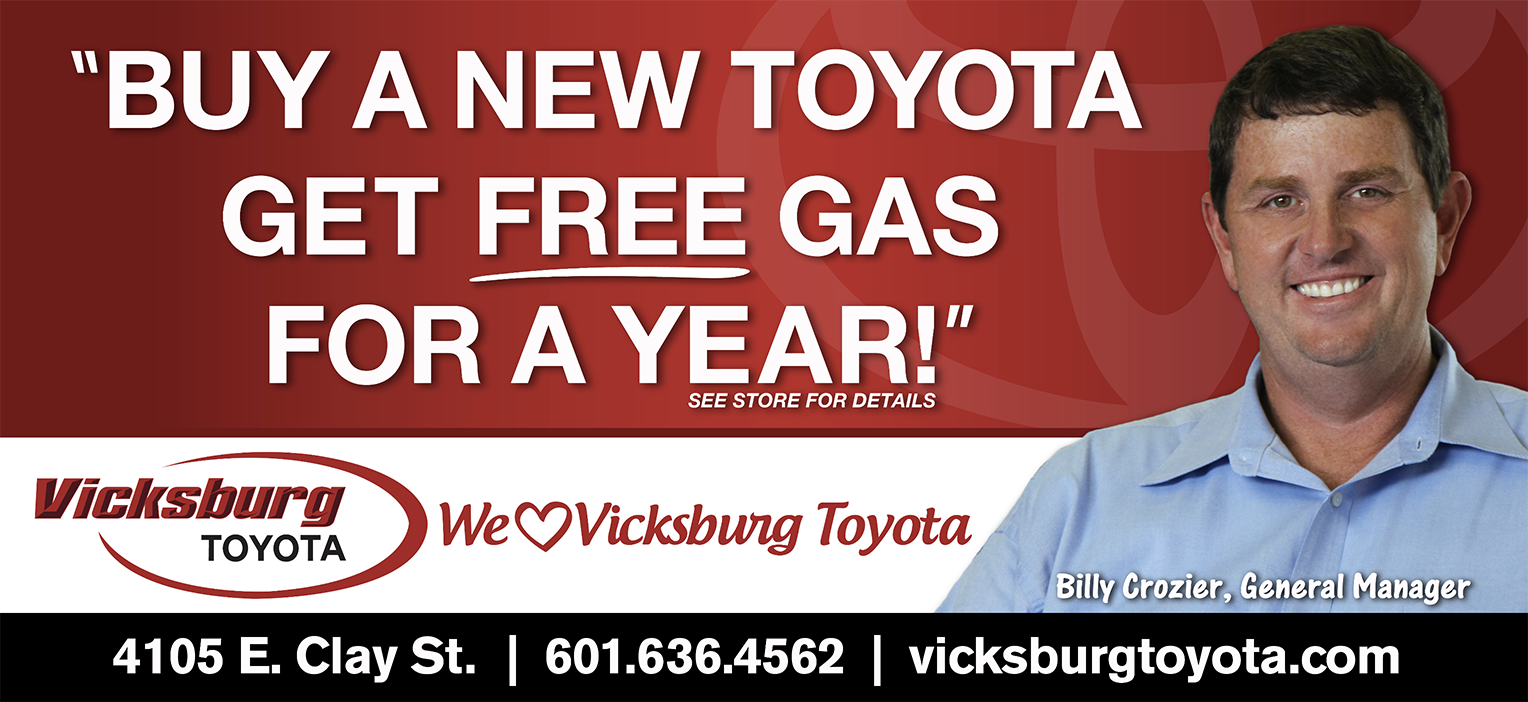 Vicksburg Toyota sought a results-driven, on-demand marketing campaign. "We Love Vicksburg Toyota" campaign included local testimonials from those with notoriety. Those featured included former Alcorn State and University of Southern Mississippi Head Football Coach Jay Hopson.
Not in My City. Not in My State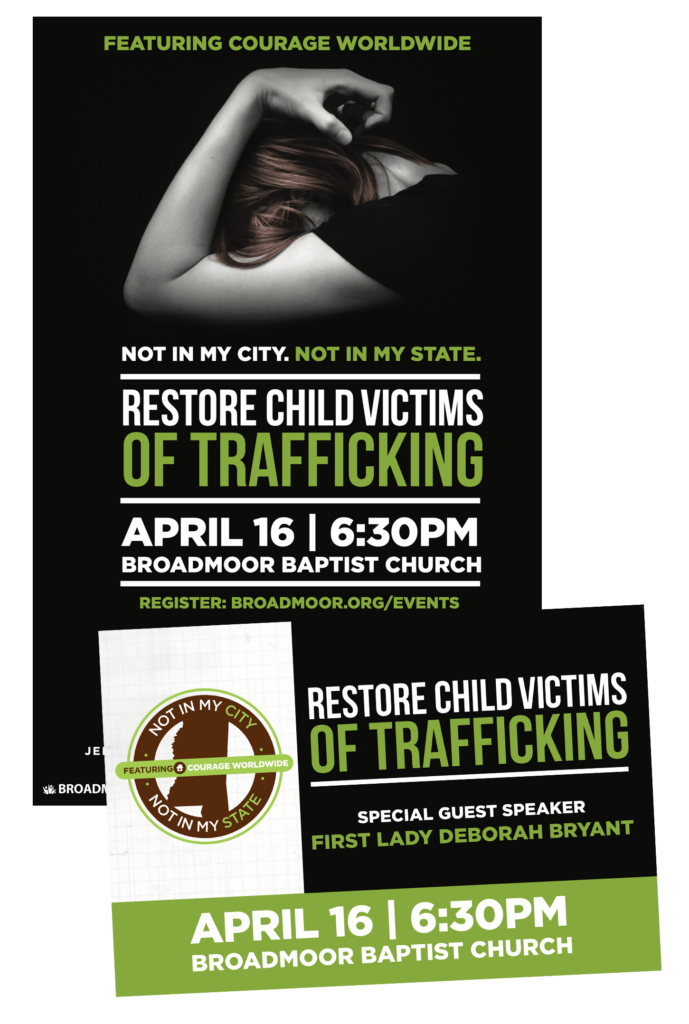 Omega Group worked with the Governor's Office and the Mississippi Office of Homeland Security to develop, organize, promote and host a Statewide human trafficking prevention event called "Not In My City. Not In My State". Special Guest Speaker First Lady Deborah Bryant spoke at the event along with two-time Olympic Gold Medalist Ruthie Bolton. In Plain Sight, a film conveying the tragic life of human trafficking victims was shown to the audience followed by speakers and a panel of experts from the FBI, Attorney General's Office, Mississippi Department of Health and Mississippi Office of Homeland Security. The event held at Broadmoor was attended by state and local politicians, non-profits and community leaders with the goal of creating awareness while energizing caring and informed people to combat human trafficking. and to provide help and healing for victims.
Green Oak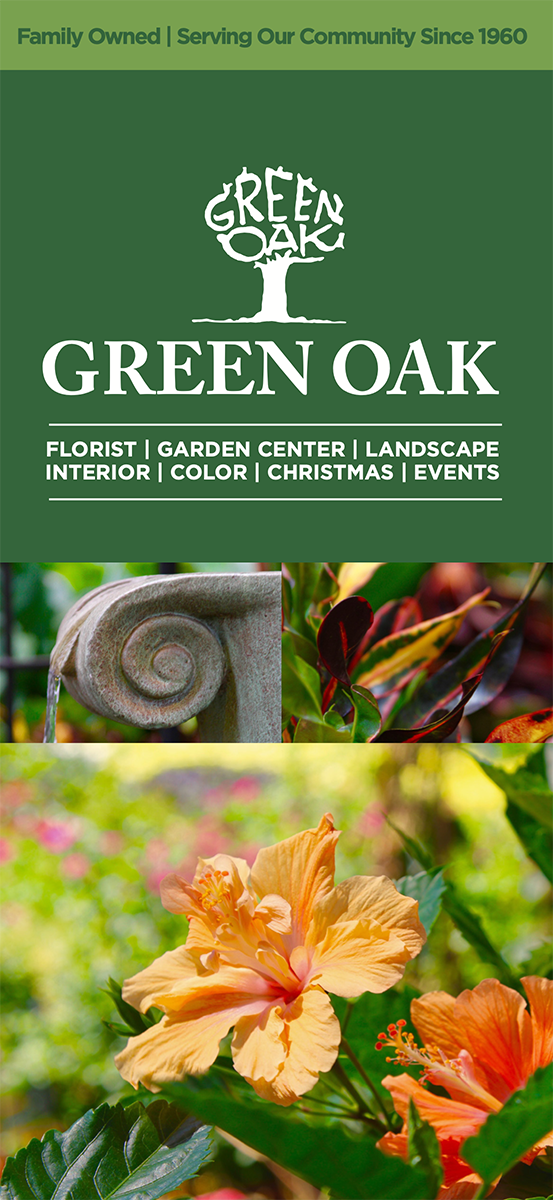 Green Oak is a third generation, horticulturally based, retail and service company. Founded in 1960,  Green Oak sought to distinguish their business as an extensive gift shop, full service florist and full service garden center. The service departments of landscape, maintenance, interiorscape, and Christmascape, provided a perfect backdrop for Omega to launch a multi-disciplinary and cross-functional marketing effort which integrated television production, event-based marketing, brand strategy, social media, graphic design, web design, radio, print and other collateral advertising. With the original location housed on Old Canton Market in Jackson and the newer location based in The Township at Colony Park, Green Oak was promoted as landscaping design and floral specialists who consistently deliver excellent results to their customers.
Will Burnett Golf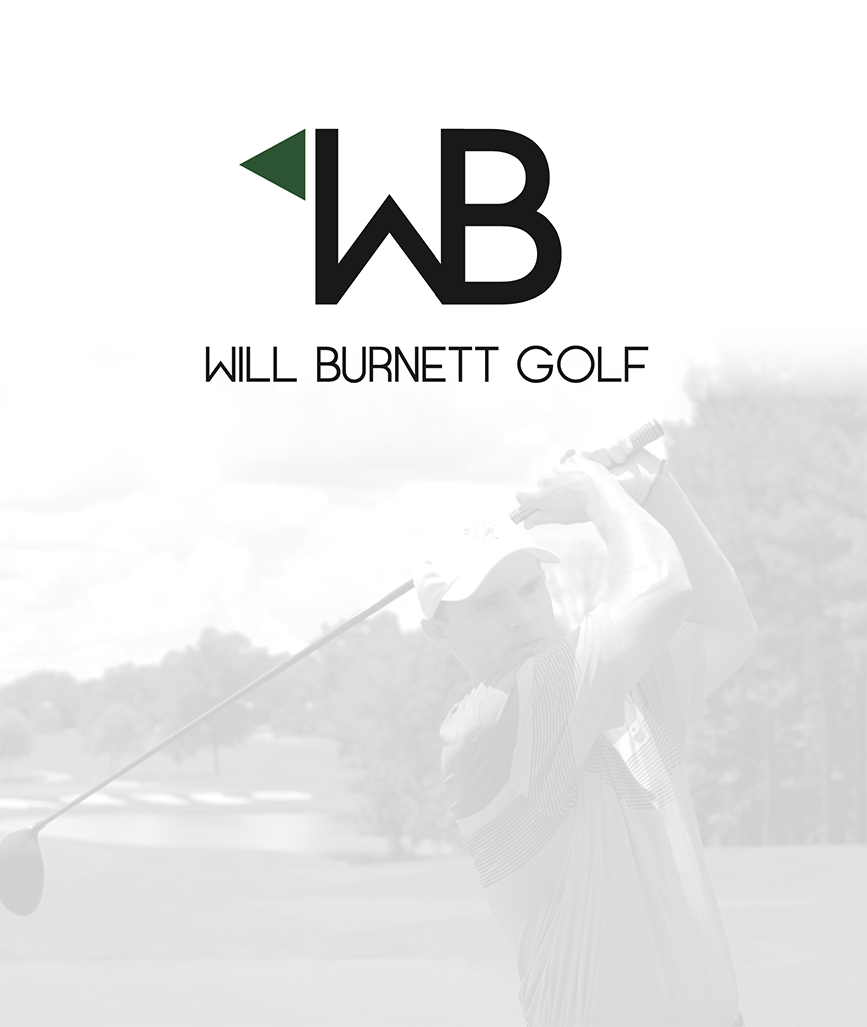 Branding campaign for professional golfer, Will Burnett who was preparing to go on tour with the Adams Pro Tour. Son of long-time Omega client Jeff Burnett, Will was coached by Tiger Woods golf coach, Hank Haney. 
Kelty Tile & Marble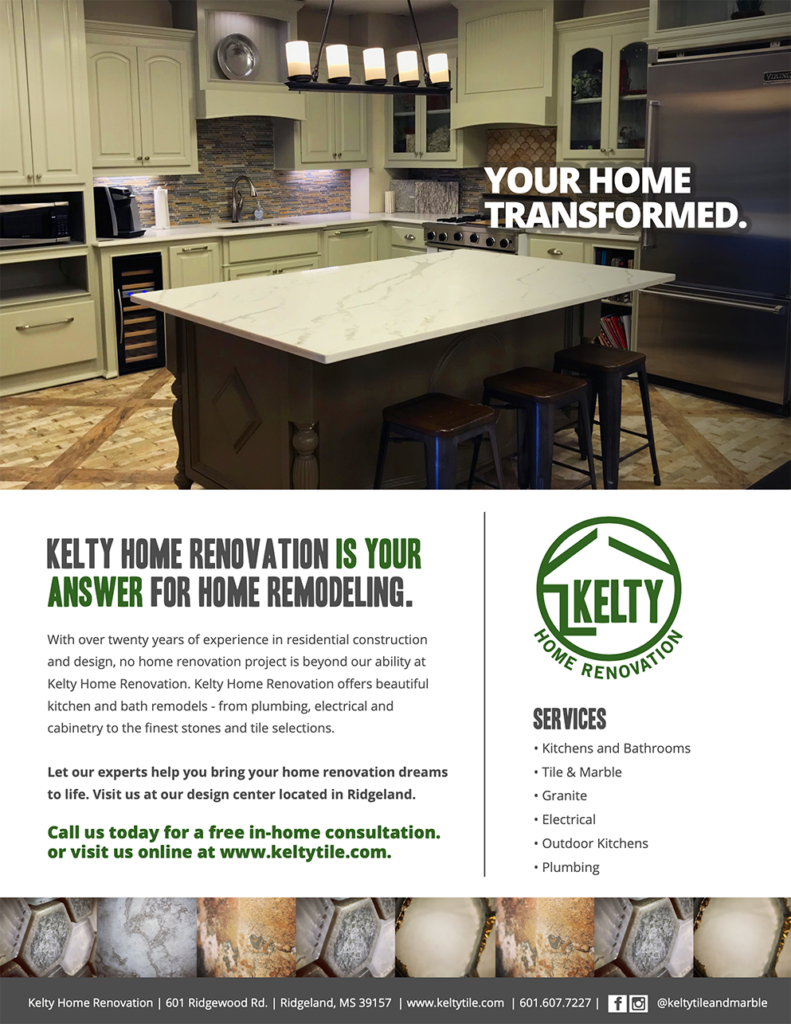 For more than twenty years, Kelty Tile & Marble has provided beautiful custom kitchen and bathroom designs and home renovations. Omega was brought in to create a fully managed solution for fresh branding and custom construction content creation for Kelty.
As part of this effort, Omega developed an exceptional marketing campaign which included an emphasis on craftsmanship and outdoor kitchen design.
University of Notre Dame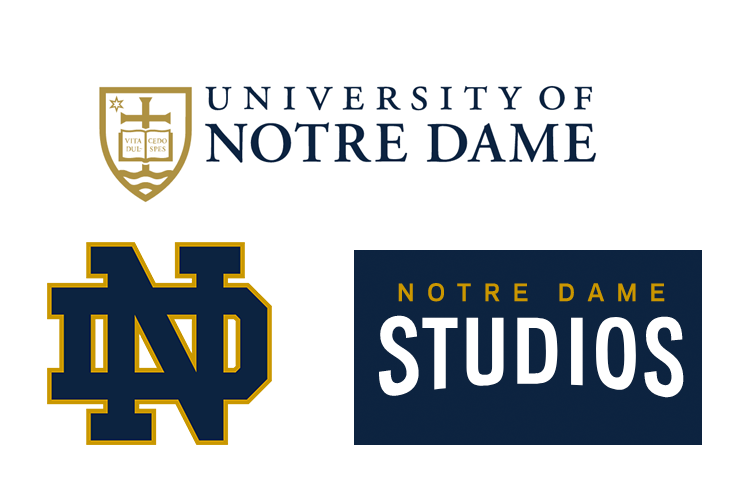 Omega was brought in by the University of Notre Dame College of Arts and Letters on studios design projects in conjunction with the Notre Dame Studios and the Office of Information Technologies. The projects included capturing a new image with a distinct team and brand and providing deliverables for learning and teaching technologies.
Mississippi Bureau of Investigation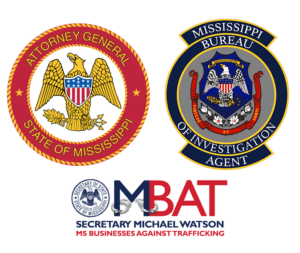 Omega Group worked with Mississippi State Human Trafficking Coordinator of the Mississippi Bureau of Investigation (MBI) to produce an educational video of Brian Montgomery sharing the tragic loss of his son Walker with the goal of creating awareness and change around a life-or-death sextortion scheme. This production was also shown to the Mississippi Secretary of State MBAT (Mississippi Businesses Against Trafficking) and is being utilized by the Office of the Mississippi Attorney General.
Homochitto Riverfest & Market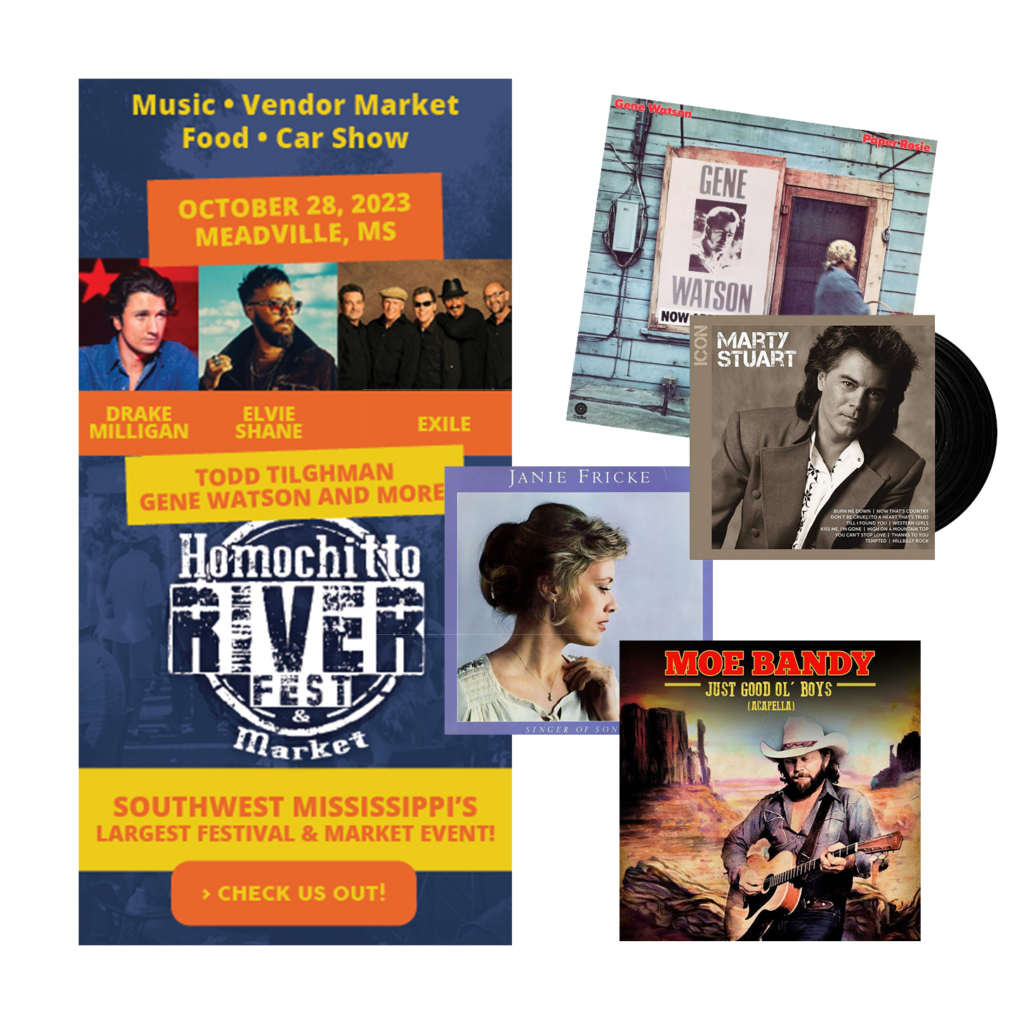 Founded in 2011, The Homochitto Riverfest & Market is Southwest Mississippi's Largest Festival Event held annually in October in Downtown Meadville, Mississippi. Lauded as "Franklin County's Showcase of Music", The Homochitto Riverfest attracts thousands of visitors who enjoy three stages of live music and entertainment, food trucks, vendor booths, a car show and pet parade.
This year's headliners are Grand Ole Opry member Gene Watson who has 48 charted singles and Exile who have had 11 #1 hits in their six decades as America's longest running band. Elvie Shane, whose hit song "My Boy" went platinum is also headlining. Past performers include multi-platinum artists Shenandoa, Little Texas, saxophone legend Ace Cannon, Country Music Hall of Famer Marty Stuart, country music chart toppers Moe Bandy, T.G. Sheppard, T. Graham Brown, Janie Fricke and Ronnie McDowell who had more than thirty Top 40 Hits.